Me, Myself, and I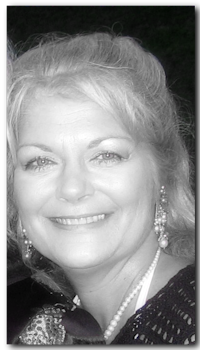 Born in Bowling Green, KY. in the 50's, I grew up in Nashville, TN., home of Country Music USA. I am the eldest of 3 girls, married 29-years, mother of 2 girls and 1 boy, and grandmother of 2 beautiful granddaughters. Growing up I dreamt of being the first woman in space! Yeah, right! I'm spacey, OK, but not because I was the first woman "in" space! I graduated college with a degree in Elementary and Special Education, and taught grades 4-6 Special Ed in Moore Co., TN., home of Jack Daniels Distillery! Last thing my Daddy said before I made the 1 ½ hour trek to work one way the first morning was, "Don't you dare go down there and meet up with someone that works for that distillery!" (Interesting coming from my Daddy who struggled with alcoholism his life). So what did I do? Fell in love with a guy from the distillery and married him less than a year later. We just celebrated our 29th wedding anniversary! I then taught preschool 3-year olds for several years, the latter of which I also was program director AND teacher! Can you say "tired" and "what was she thinkin'?" We started our family some 28-years ago, and are the proud parents of 2 daughters (1 married with 2 daughters and 1 who is a bilingual NICU nurse) and a teenage son in high school. They are all my pearls (thus the last part of my blog title). The grandchildren call me "Lolli" and my husband "Pop", so together we are "Lollipop"! Get it? Pretty clever, huh?

I am blessed to live on the same property as my mother and one sister; my other sister lives about a mile down the street with her 4 children; one daughter lives with my mother and sister; the daughter with children lives exactly 10 miles away, and our son lives with us. For most of my children's lives I was a SAHM. I now work 28-hours a week helping care for a 98-year old lady who is bedridden at home. Her mental faculties are still in tact and she is delightful and easy to care for.

Creativity is food for my soul. I love to watercolor paint, scrapbook, make "funkydelic" art, write, read, snow ski and water ski; I love to travel, I am a people-person who absolutely loves her GF's! I am actively involved in our church, Cross Point Community Church, in Nashville, TN., as a greeter and community group leader. My husband was our Sr. Pastor's youth pastor "back in the day", so we have come full circle, and it is delightful! I enjoy participating in/teaching Bible studies. Currently I lead a ladies study in my home, I co-lead a ladies study with a dear friend, and I lead a couples group that meets every other week in our home. We are currently studying the book of Acts, and I am writing my own curriculum. Call me crazy! Better yet, don't call me crazy! Call me somethin' nice and sweet!

I hope my blog will be a place where you can come for a respite; leave prayer requests/praise reports; perhaps share some of your own creativity with others here; and above all else I desire that everything that is said or shown on this blog site will be honoring to my Lord and Savior, Jesus Christ….the Master Creator and Artist Extraordinaire.

Choose to be blessed and be a blessing today and everyday!
Lolli